Who doesn't love new furniture? And you can get some great new furniture without spending your life savings. You can find some great buys on dining room sets online if you know where to look.
When looking for dining room sets, remember that inexpensive doesn't need to mean low quality. And you don't have to compromise on looks.
To help you create the home of your dreams, here is a list of places that sell cheap dining room sets.
Overstock
Overstock has been around for years. That is because they know how to find the best bargain prices for their customers.
You can find incredible dining room sets at Overstock.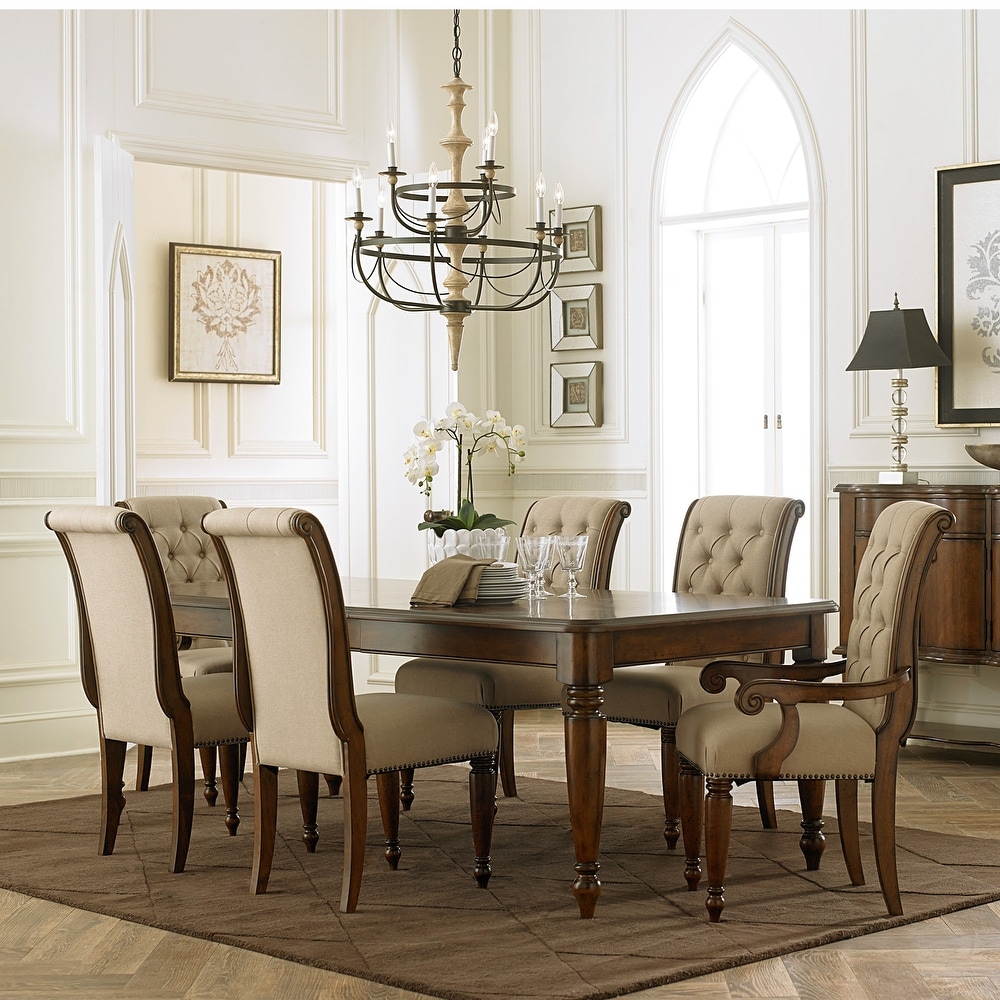 They have a wide range or selection from mid-century modern dining room sets, rustic dining room sets, farmhouse dining room sets, to transitional dining room sets. They have dining room sets of all sizes ranging from 2-person to 8-person dining room sets.
The company also carries living room sets, bar sets, bedroom furniture, kids and toddler bedroom sets, and so much more. You can always find great deals.
They currently have a Pre-Black Friday Sale at Overststock with up to 70% off thousands of items and free shipping on everything.
You can also get a 15% off coupon for signing up for their email updates.
Walmart
You might not think of Walmart when it comes to dining room sets. Still, you can find excellent dining sets that look great indoors or out.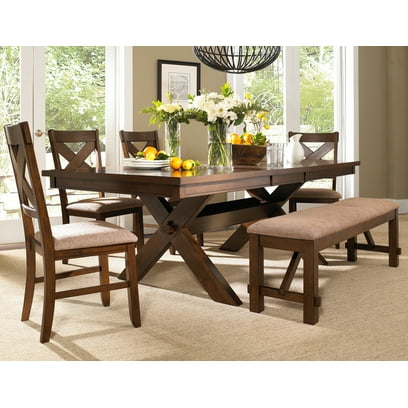 Made of natural wood finishes and eucalyptus hardwoods, Walmart's dining room sets will liven up any room.
Some of their sets will only seat four, but there are plenty of others with six or eight chairs.
They offer free delivery on many of their dining room sets and some even offer free 2-day delivery.
You should be able to find the size and style to suit you. And, best of all, many Walmart hot deals mean reductions of 30% or more.
Walmart currently also has their Black Friday Deals at Walmart live online.
Amazon
Amazon has always been known for its impressive selection of products and you'll get a great deal in this respect when you look through their dining room offerings.
They have a variety of brands with dining room sets ranging from 2-pieces to 9-pieces. With an impressive range and free shipping, you can be sure to perch one of Amazon's dining room sets on your patio, porch, or in your home and it will look fantastic.
Offerings include not only various sizes and shapes, but also coatings and kinds of chair. With many sets to choose from, you can indulge your style.
Sam's Club
Sam's Club always offers you one the best in furniture deals.
If you are looking for dining room sets that will look great on your patio, porch or in your dining room, have a look at all Sam's Club has in store for you.
You'll find a beautiful 7-piece aluminum dining set complete with swivel dining chairs and a gorgeous oval hardwood dining table and padded dining chairs.
They have many different brands and styles. Sam's Club often has sales on their dining room sets and offers free shipping on most of their dining sets.
For dining room sets at a great price that will nonetheless last for years, check out Sam's Club.
Wayfair
Hot deals don't come any better than those you find at Wayfair. And if you are looking to up your elegance, Wayfair has dining room sets designed for just that.
How do fully upholstered armchairs sound, with buttons tufted into the dining chair backs? A quartered white oak veneer dining table, large enough to seat eight comfortably – and all in subtle finishes, perfect in any home. Wayfair has a great selection of dining room sets with many different styles and their sets range from 2-person to more than 10-person dining sets.
You may have to spend a little more at Wayfair than in other stores on this list, but it can be so worth it! They offer free shipping and the best deals at Wayfair can reach up to 70% off.
Ashley Homestore
Ashley Homestore has over 800 brick and mortar locations worldwide and they have been around for many years. You can also purchase their furniture online.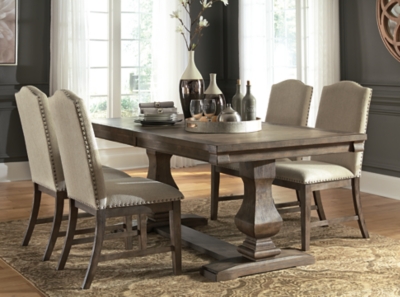 They are known for their affordable furniture and is great for those who are looking for budget friendly furniture.
They have traditional dining room sets as well as a variety of contemporary designs. You can find sizes ranging from 2-person to 6-person dining room sets.
They offers several different shipping options including a no-hassle delivery + assembly or free doorstep delivery.
Ashley Homestore currently has their Black Friday Sale with savings up to 60% off their dining room sets. You can even save an extra 10% off by using the coupon code BFSAVE10.
Hayneedle
It used to be that you had to visit a large furniture store and decide from their inventory right there what was the right look for you. Those days are long gone, especially when you have sites like Hayneedle leading the way. Now you have your choice of fabulous dining room sets and many great deals on Hayneedle. Your dining room set will look like a million dollars.
Look out for all-weather wicker dining sets, travertine marble, and durable and UV-resistant materials. At Hayneedle, you can find great clearance items at as much as 70% off. As always, shipping is free.
Hayneedle currently has a Holiday Dining Room Sale with prices up to 50% off. You can also get a 10% off coupon by joining their mailing list.
Reputable places such as Wayfair, Walmart, Amazon, Sam's Club, and more offer you great deals every day with tons of money off. You choose how large or small a dining room set you want, and what colors and finishes you love. Shop online and have it all delivered free to you. What could be easier?
Whether you are looking for a traditional dining room set or something more modern and sleek, you can find the dining set that suits your style without costing the earth.
For cushioned chairs or armchairs, a bar-style set, dining sets that can accommodate a few people or a large crowd, whatever you need, you will find it all at here. We do the hard work for you. We'll help you find superb deals – all you have to do is point and click.
Share this: